Caterpillar Home Purchase Incentive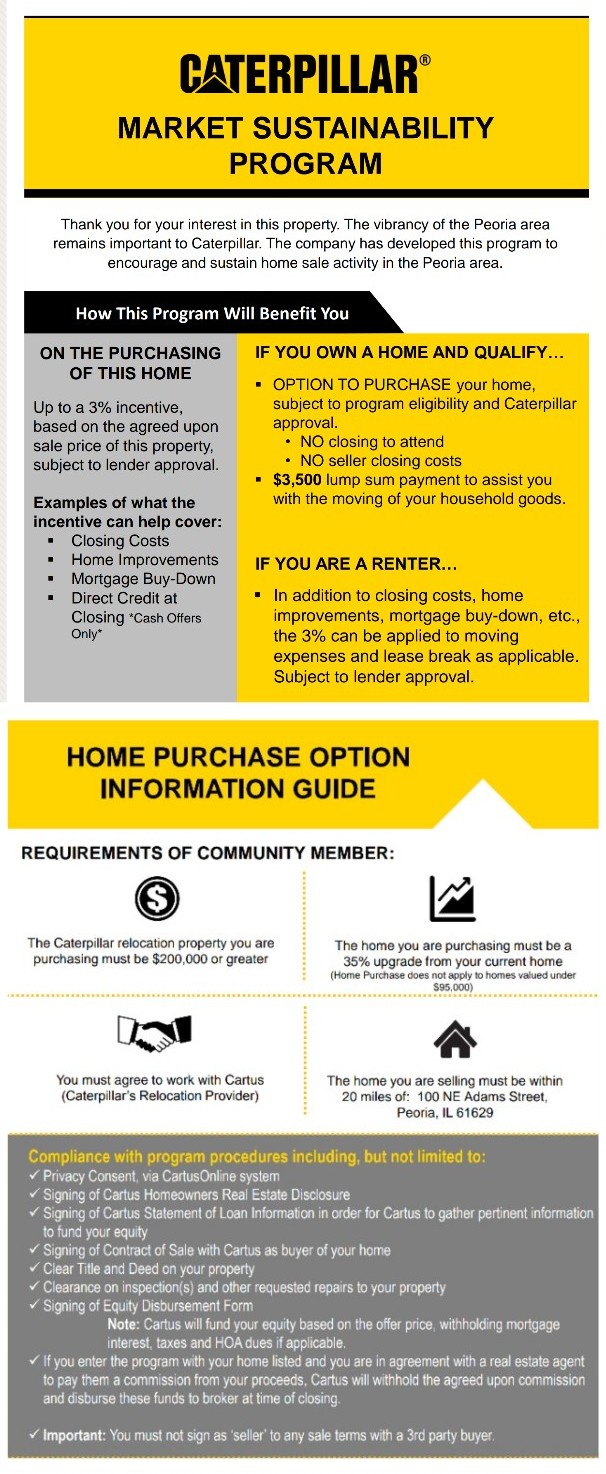 BIG NEWS from Caterpillar Relocation Program!!!!!!!!!!!
Starting March 1st, 2018, Caterpillar's relocation incentive program has been modified to include eligible Caterpillar relocation homes $200,000.00 and above. Prior to the March 1st modification eligible Caterpillar homes being purchased had to be $300,000.00 and higher. This program modification will certainly allow more home buyers the ability to take advantage of some great savings opportunities.
Click here for a list of current eligible Caterpillar homes.
Download the flyer/application here
What does the program have to offer:
A 3% buyer incentive on eligible homes that can be used for the following:**

Closing Costs
Home Improvements
Mortgage Buydown
Direct Credit at Closing (cash purchases only)
Eligible closing costs are your traditional closing expenses such as inspections, appraisals etc (subject to lender approval)
The eligible Home Improvements include almost anything you can think of such as paint, flooring, fences, appliances, landscaping, windows, doors, siding, roofing etc.
**The 3% incentive must be paid directly to a vendor providing the work and not the buyer (unless its a cash purchase)
2. If you currently own a home you may be eligible for Caterpillar's Trade In program. Here's how it works.
Current home must be valued at at least $95,000.00
Home being purchased must be 35% higher in price than the buyers current home.
Caterpillar Home being purchased must be $200,000.00 or higher.
The buyers current home must be within 20 miles of 100 NE Adams St, Peoria IL 61629
If all the above criteria are met and approved by Caterpillar, Caterpillar will make an offer to purchase the buyers current home. If the offer is accepted Caterpillar purchases the buyers current home. In addition to no seller closing costs for the buyer and no closings to attend. You will also receive a $3500.00 lump sum payment to assist with moving expenses.
*Program is subject to change and may be terminated at any time by the Caterpillar Relocation Organization.